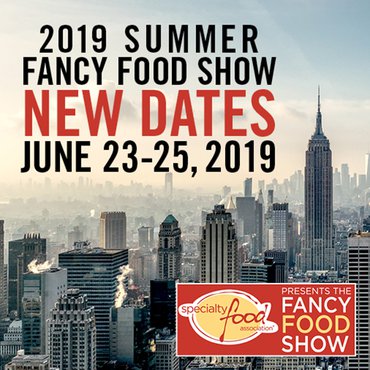 SUMMER FANCY FOOD SHOW
(Specialty Food Asociation)
From June 23 – 25, 2019
65th International Summer Fancy Food Show
Jacob K. Javits Center, New York, USA
The Summer Fancy Food Show is the largest North American marketplace devoted exclusively to specialty food and beverage producers and buyers. It is THE essential showcase for specialty foods from all over the world with more than 200,000 specialty food products on display.
The Summer Fancy Food Show features more than 2,600 exhibitors, with representation from more than 50 countries around the world. Germany is this year's partner country.
Fancy Food Show takes pride in hosting the best networking and educational events. Stay up-to-date on the latest trends and discover new business ideas. The exhibition presents educational seminars and talks addressing the basics of specialty food, innovation, trends and other topics important to manufacturers, retailers and other members of the trade.
The Summer Fancy Food Show is hosted by the Speciality Food Association and comes along with Winter Fancy Food & Confection Show in San Francisco, the largest trade fair for food and beverage specialties of trade and catering market in the USA.
Sunday, June 23, 2019: Show Open 10 a.m. – 5 p.m.
Monday, June 24, 2019: Show Open 10 a.m. – 5 p.m.
Tuesday, June 25, 2019: Show Open 10 a.m. – 4 p.m.
More information