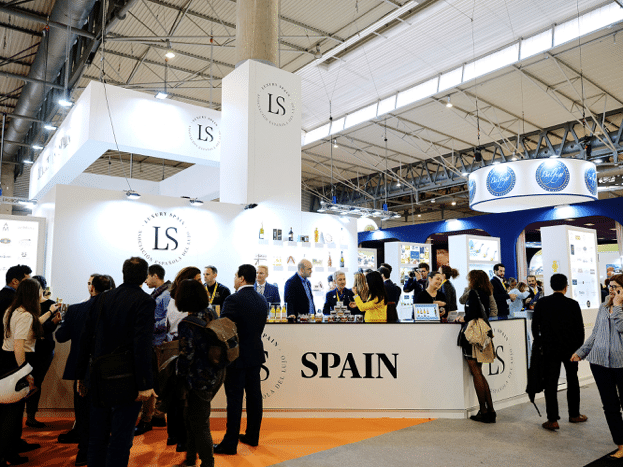 Another year we participated in the Food Fair together with the Spanish Luxury Association with its seal of quality "Luxury Spain Gourmet"
The gourmet sector in Spain is the most representative within the luxury sector, with a turnover of 2.8 million euros at the end of 2017.
The presence at the Fair was an extraordinary opportunity to publicize the excellent products of each firm and to present the news to a professional and demanding audience whose goal is to find excellence in gourmet products.
The Spanish State occupies the fifth place in the "Luxury Market" within the Union
European While most sectors have experienced drops in their levels of production and sales, in the luxury sector these are maintained and increased through exports and tourists who visit us.
Spain is, for the most part, a luxury exporter, since 53% of the turnover of Spanish companies is due to foreign sales. International consumers like Spanish products and, increasingly, visit our country in search of them. More and more Spanish luxury products are valued abroad for their "quality", "innovation" and "tradition". On the other hand, the luxury products and services sector "made in Spain" closed 2017 with a turnover of 6.3 billion euros, 5% more than in 2016.
As previous years we repeated our experience with the Spanish Luxury Association. Luxury Spain is a non-profit entity whose purpose is to empower and protect the exclusive, craft and quality Spanish firms, making them known inside and outside our borders. As members, we contribute to maintaining these values with our own brand. (For more information we recommend visiting the following new)
The Spanish Luxury Association registers the brands of "Luxury Spain", "Luxury Spain Gourmet", "Luxury Spain Beauty" and "Luxury Spain Fashion" as Private Quality Seals that certify and grant a guarantee of quality and recognizes them as "Members of Excellence ", in addition to an excellent presentation of the image of Spain.